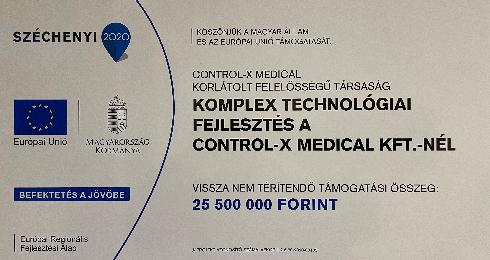 EN text below
- Kedvezményezett: Control-X Medical Kft.
- A projekt címe: Komplex technológiai fejlesztés a Control-X Medical Kft-nél
- Szerződött támogatási összeg: 25.500.000 Ft
- Támogatási arány: 67,36%
- Pályázati azonosító: VEKOP-1.2.6-20-2020-00103
- Befejezés dátuma: 2021. szeptember
Rövid szöveges leírás: Jelen beruházás keretében a Control-X Medical Kft-nél egy komplex projekt valósult meg, amiben jelentős számú új tárgyi eszköz (oszcilloszkóp, kézi pántoló, forrasztóállomás, elektromos targonca, kézi raklapemelő, Piranha R/F rendszer és RTI MAS-2) kerültek beszerzésre, illetve felújítottuk a fűtési rendszert és megújuló energiatermelés érdekében napelemes rendszert helyeztünk üzembe. A fejlesztések segítségével csökkent a vállalkozás működési költsége, így többet tudunk kutatás-fejlesztésre fordítani. Ezzel párhuzamosan javul a vállalkozás versenyképessége, így garantálhatjuk kollégáinknak a biztos munkahelyet.
-------
Control-X Medical Ltd. was awarded HUF 25,5m for complex technological developments from EU and Hungarian Government funds via the Széchenyi 2020 Programme under the heading VEKOP-1.2.6-20-2020-00103.
- Beneficiary: Control-X Medical Kft.
- Project Title: Complex technological development at Control-X Medical Kft.
- Contracted grant amount: HUF 25.500.000 - Grant rate: 67,36%
- Tender ID: VEKOP-1.2.6-20-2020-00103 - Completion date: September 2021
Short description: In the framework of the present investment, a complex project was implemented at Control-X Medical Ltd. in which a significant number of new fixed assets (oscilloscope, manual strapping machine, soldering station, electric forklift, manual pallet lifter, Piranha R/F system and RTI MAS-2) were purchased, the heating system was renovated and a PV panel system was installed for renewable energy production. These improvements have reduced the running costs of the business, allowing us to spend more on research and development. At the same time, the competitiveness of the company has improved, so we can guarantee our colleagues job security.